Identify sales leads you never knew you had

!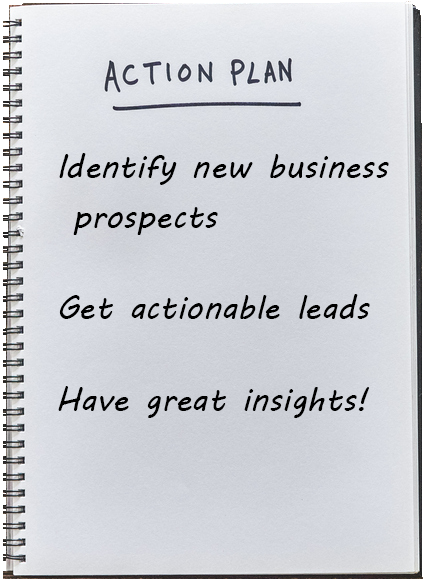 Find out which companies are visiting your website!
STEP 1
Create your Leads5050 account

STEP 2
Insert in your website a line of code
(like Google Analytics)

STEP 3
Use Leads5050 to find out which businesses have been visiting your site
IDENTIFY THE VISITORS TO YOUR SITE
Leads5050 identifies leads and potential prospects by uncovering the identity of your website visitors.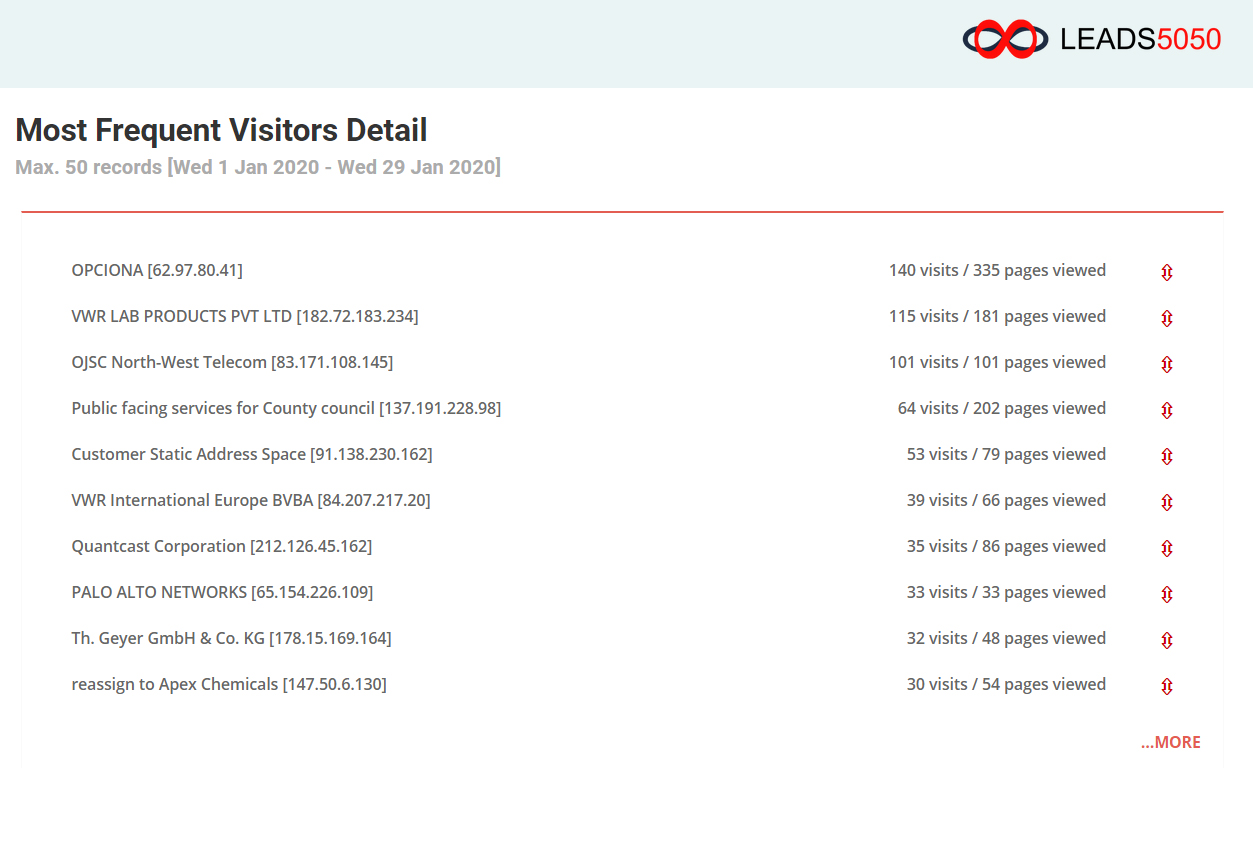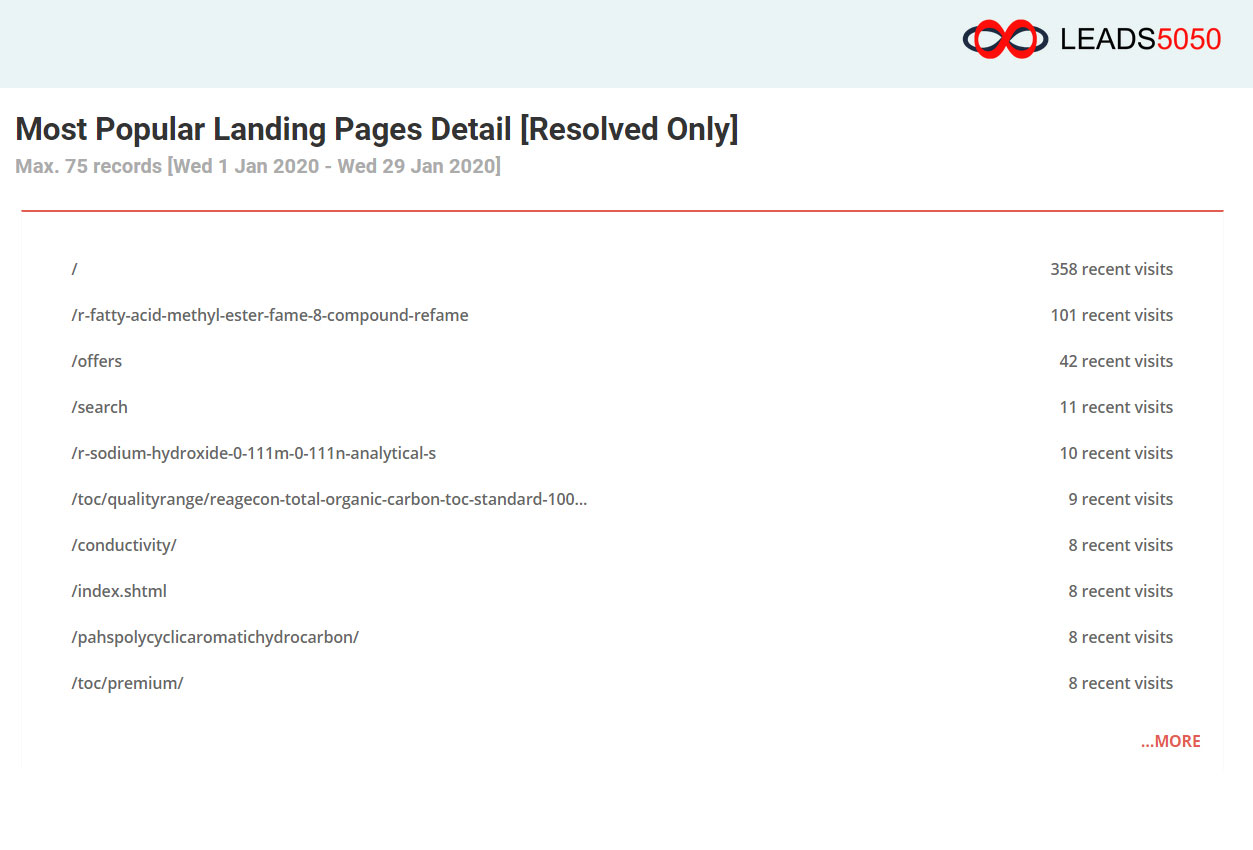 WHICH PRODUCTS AND SERVICES ARE MOST POPULAR
Our lead generation software identifies which services or products are most popular with your visitors. Find out the most recent visits quanties per page.
KNOW INSTANTLY WHEN VISITORS VISIT
Find out the latest visitors to your site as they happen. Use this information to quickly follow up on potential prospects.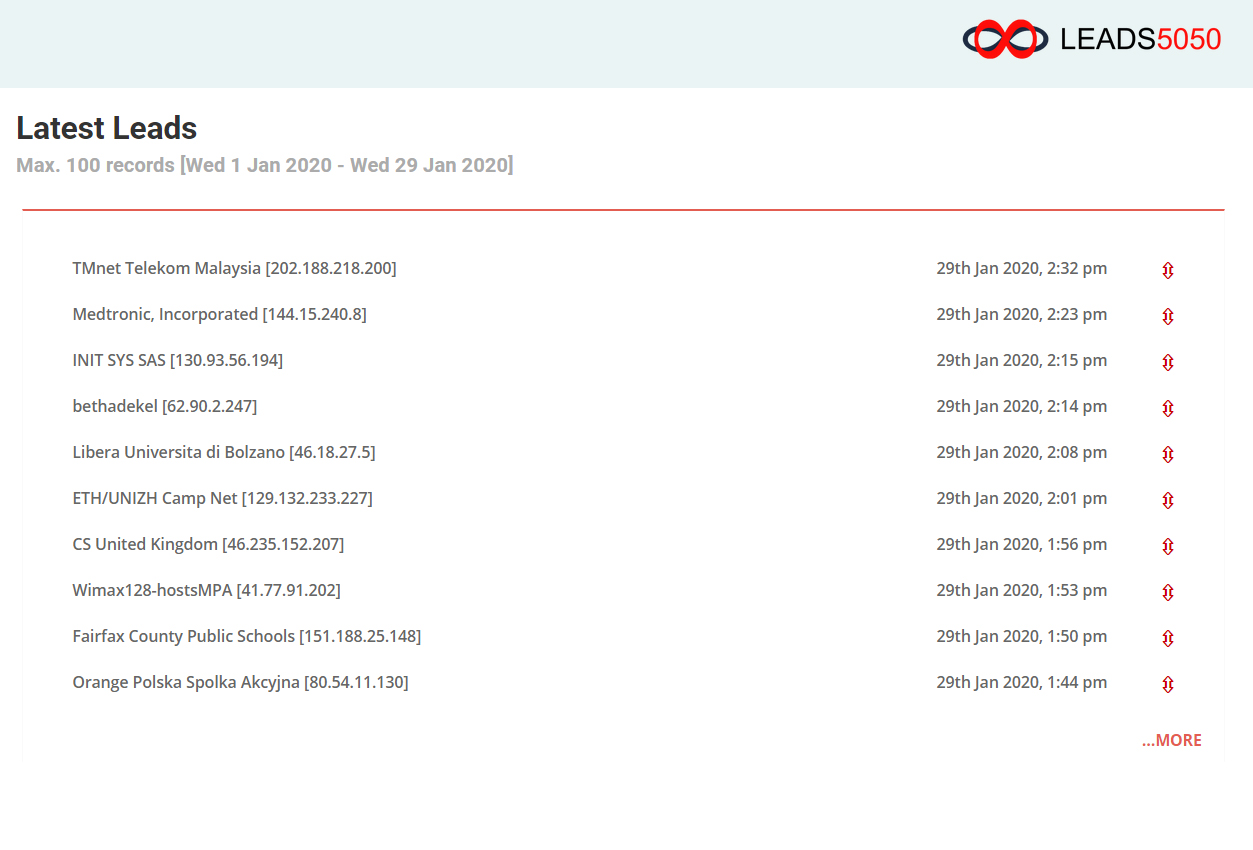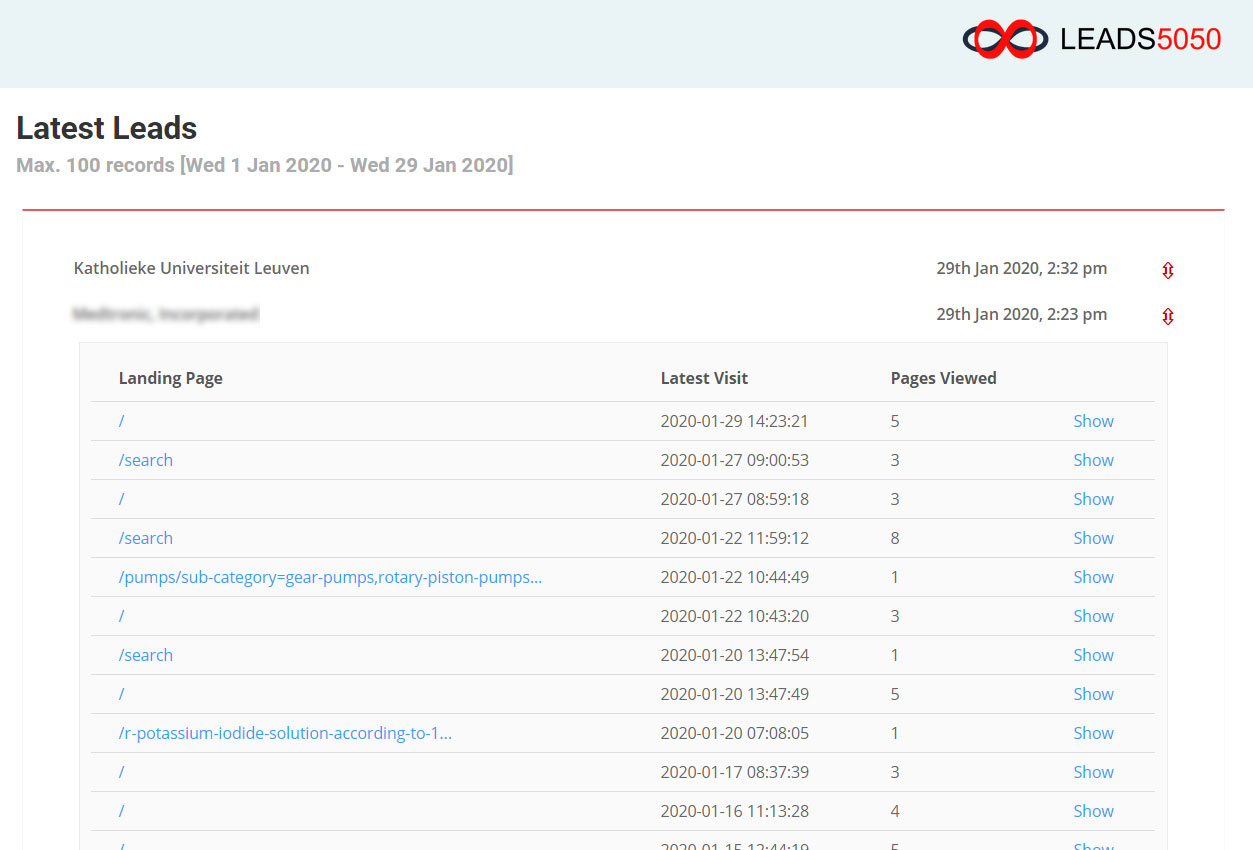 COMMUNICATION AND PREPARATION INSIGHTS
Get insights into your visitor behaviour. Find out exactly what your visitors are looking for. You can then prepare your communication to suit your prospects needs. Using our lead generation software you can find out key intelligence such as:
What they searched for
How many times they visited
When they visited the site
Pages viewed and time spent
Leads5050 knows the companies visiting your website
Leads5050 gives you the information you need to make lead generation as simple as possible
Identify the visitors to your site
Leads5050 identifies your B2B leads by uncovering the identity of your website visitors.
Categorise your leads
Allocate your leads into categories: Lead, Propect, Customer or Competitor.
Visitor interests
Checkout what products or services your customer is looking at. 
Visitor Information
Find out the name, location and website address of your site visitor. 
Who is looking at what
Discover which leads are looking at each of your services or products..
Site visit statistics
View all the visits to your site: Direct, External, Search Engines, Social Media and Internal.
Website Visitor Tracking - Lead Generation Software
For those who are running online businesses, this is one piece that will be very relevant to you. It is crucial that you know those who are visiting your website. Knowing who is visiting your website gives you great insight into potential leads. Standard analytics does not give you this resolution. Use lead generation software - Leads5050  to track and make you aware of who is visitong your business website. 
Advantages of Real-Time Website Visitor Tracking
Real-time tracking of website visitors has a lot of advantages and benefits. For starters, you are going to be able to see in an instant every visitor on your website and in real-time too. Based on the specific strategy that you are using, some of these advantages include the following:
Understanding how people react to your fresh content

Details on which blog posts, social media posts, website articles, sections or platforms are getting you the highest traffic. Traffic is the number of visitors coming to your website at any given time.
Details on how a visitor makes use of your website. For example, you can see their entry and exit links and how they move through your website. This way, you are also able to have a better understanding of how visitors overall make use of your website. You get to know which section or pages of the website attract the greatest number of visitors.
Understand which offers, sales and products are getting the highest level of attention or driving the traffic from the visitors.

Live notifications whenever a visitor or entity lands on your website.
Know which pages or parts of your platform lead to the highest number of commercial transactions and sales.
© 2019, Leads5050, Inc. All rights reserved.