1
Create your Leads5050 account

2
Add your Leads5050 tag to your website

Linking a Non-WordPress Site to Leads5050
The installation while straightforward, can usually only be done by a site owner or a user who has administrative access to the website.
To allow communication between your site and Leads5050, a tag (single line of script, just like Google Analytics) needs to be added to every page of your site. The tag contains a code that is unique to your site and ensures that information gathered on visits to your site is associated only with your site. This tag/code combination is essential and you will not be able to monitor visits to your site without this code.
The process of including a tag/script is commonly used by any software that monitors websites to generate performance or information reports. Google Analytics and Bing Webmaster Wools are examples of software that use this approach.
The Leads5050 interaction with your site captures the IP addresses of visiting sites and associated this with the page visited. Leads5050 does not access any user data.
The manual tag/script installation can still be used on WordPress sites though it is a lot easier to install the dedicated WordPress Plugin.
Sign Up / Register your Leads5050 account by selecting one of the options provided.
Register your login on Leads5050 and you will receive 250 free credits. This is in addition to the 50 free credits that every site receives each month.
Registration provides full access to all the features on the Leads5050.com dashboard.
Each unit is a recorded visit session which may include visits to multiple pages. The application captures information about the visit session like:
Source of the visit (company).
Pages visited and the visit route.
The country of origin for the visit.
The software does not record any personal information. The purpose of the software is to track the usage of the website and this is done without using cookies or capturing personally identifiable information.
The registration process asks for your domain name and associated this domain name with your site and with you. Once this information is available, the tag/script is generated and becomes available to you.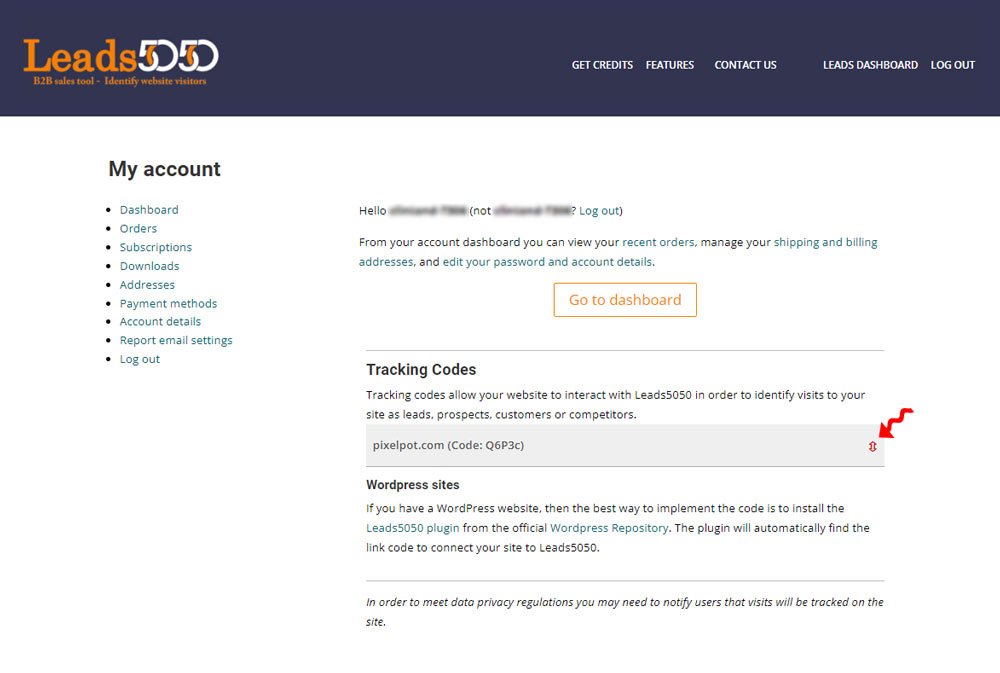 The procedure for including the line of script on your website depends on the Content Management System (CMS) that is used to generate and display your content.
It is not viable to cover the installation process for every CMS and this is beyond the scope of this help document. Nonetheless, adding script to sites is fairly commonplace and the procedure is usually straightforward.
Most Content Management Systems provide a plugin, procedure or input field where the line of script can be added. This script must be added in the body of the document (i.e. somewhere between the <body>…</body tags).
You can provide the script that you copy from your Leads5050 account to a Developer to install or you can do this yourself.