Knowing who visits your site, how they interact with your content, what they consume and when they leave is valuable information that savvy marketers and sales professionals can use to their advantage. Leads5050 provides these insights into your website and generates an in-depth analysis of potential leads that you can target.
But what about the competition and the wider world? What are they doing to capture the leads you are working for and what are some of the reasons if any that visitors have stopped coming to your site before others?
 Constant change and evolution in the marketing world mean businesses are constantly adapting and testing new ideas. This is to see what works for them and how they can get ahead of the competition.
 It's important to stay ahead of trends that pertain to your business.
Leads5050 can show you the best leads for your business, where they came from and what they consumed. Using other approaches can help further your goals and build your business and brand, increasing your leads and customer base.
New marketing tools and strategies keep evolving and it's important to keep up with the changes if you want to stay ahead of the competition.
Here we will look at 5 of the top B2B marketing trends from the first quarter of 2021 that are likely to continue in use:
Interactive Content
In a social media-driven world, businesses that can generate high levels of engagements on social media platforms are quite successful. It doesn't cost much to create interactive content. You can start by creating infographics and short videos then share them on your social media pages. These can be productive reviews, shopfloor walkthroughs or graphs on business success etc.
The point here is to make your audience view you as an approachable and modern brand.
If social media is not the channel for your business, then interactive engagement via emails, or onsite can increase engagement and the sharing of your website and content.
Check your leads5050 statistics to see what content has received engagement, what did you do right here? Was it the time of posting or the content itself etc.?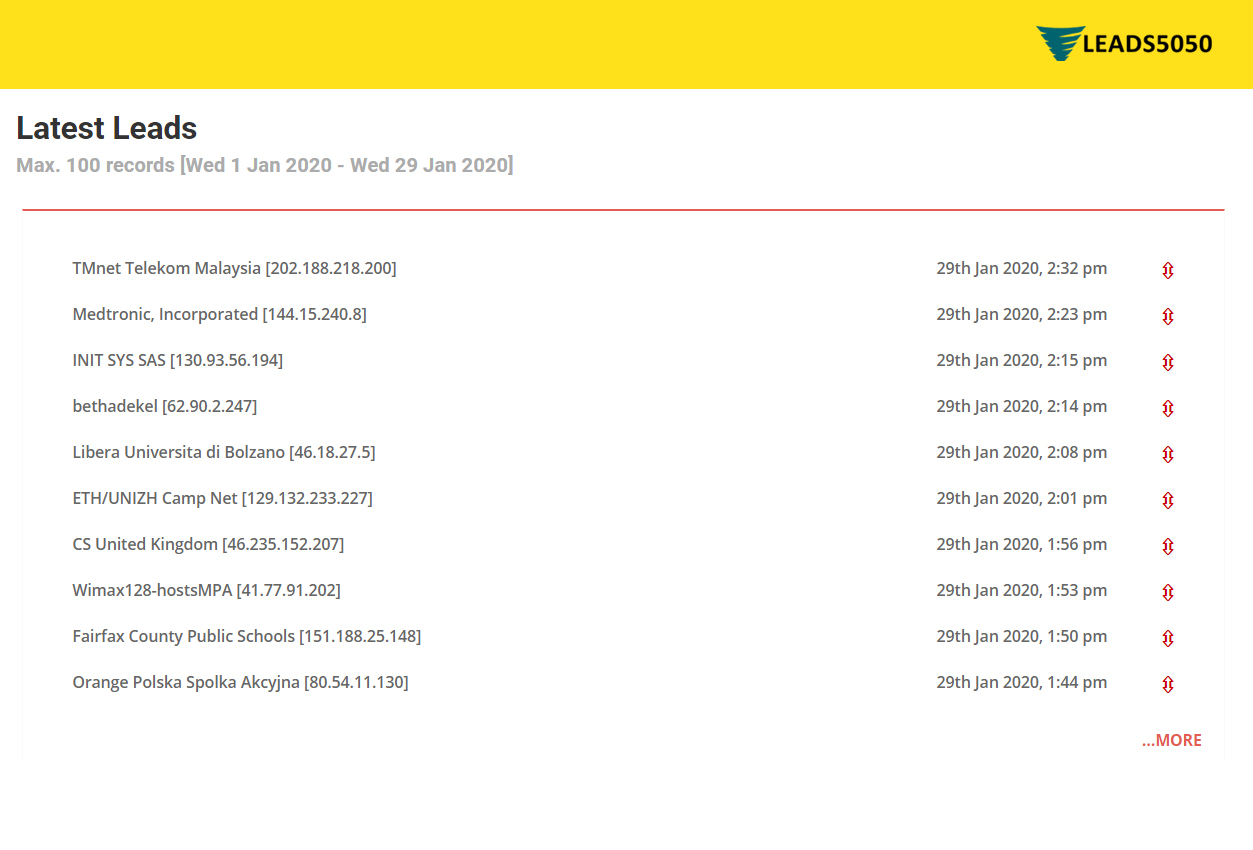 Voice Engagements
The rise in interactive voice technology like Alexa, Google Assistant and Siri and the overall increase in popularity of podcasts and audio-only platforms like Clubhouse has opened a new set of opportunities for marketers in 2021.
If you haven't already, it's time to start developing a distinct voice persona and subsequently develop engaging and interactive audio content to improve your brand recognition.
Notably, avoid using promotional language in your voice messages. Unlike in visual marketing, audio consumers have extraordinarily little patience for intrusive adverts. Instead, create informational and service-oriented content that provides helpful and educational information to your audience. The loyal following you create from this will be much easier to convert in the other stages of the sales funnel.
Short and to the point information on products and services works best and helps create familiarity with your brand. Increasing numbers of business are using audio to help promote their brand and business.
Social Cause Marketing
How do you let your prospective customers know what values you stand for? By sponsoring charity events, standing up for important social causes and aligning your company's practices and ethos with the values of your target audience.
Of course, conscious marketing strategies are expensive to implement in the short term, but in the long term, the benefits outweigh any costs and risks.
In B2B relationships, look at what your customers support, the causes they follow. Does your business share similar interest, this may be a great way to initiate contact or to use Account-based marketing to your advantage?
Chatbots
More than 1.4 billion people reportedly use chatbots regularly.
Yes, you read that right. 1.4 billion.
Naturally, implementing a chatbot support system saves you the costs of hiring entire customer care teams to be on call 24/7. Additionally, and most importantly, they add to your customer service brownie points as they provide much faster responses and many people find them fun to interact with.
Should you have a service-based industry it's important to have great communication and chatbots may be just the key. Can you answer something the competition cannot? Use this to your advantage and you will have frequent visitors to your site which can, in turn, become leads and customers.
Influencer Marketing
Social media, particularly Instagram and TikTok, continue to surpass traditional media outlets in terms of popularity and reach. Influencer marketing is fast becoming the marketing technique of choice for many businesses, big and small. The industry itself is expected to hit a net worth of over $13 billion this year, with 65% of brands planning to run influencer marketing campaigns in 2021.
Unlike other forms of marketing, influencer marketing involves working with people with who your target audience interact regularly. This means sales conversions will be much better. Further, you have the option of only hiring influences for certain campaigns instead of having them always on.
Without using influencers though you can use channels such as TikTok to highlight your brand to new prospective customers or create your own "Influencer" face for your business. This can be done by showcasing new products and services.
In B2B terms influencer marketing is still a grey area, but if implemented correctly it could have a huge impact on small businesses and start-ups which need to get their name out there.
In Summary
2020 was a game-changing year in all aspects and the recorded changes in business practices and customer behaviours look set to carry on through 2021. Keeping in tune with expected changes allows you to implement better marketing strategies that not only keeps you abreast of the competition, but that also present you as a trailblazer in your field.
© 2019, Leads5050, Inc. All rights reserved.